Human skeletal asymmetry. A study of directional and fluctuating asymmetry in assessing health, environmental conditions, and social status in English populations from the 7th to the 19th centuries.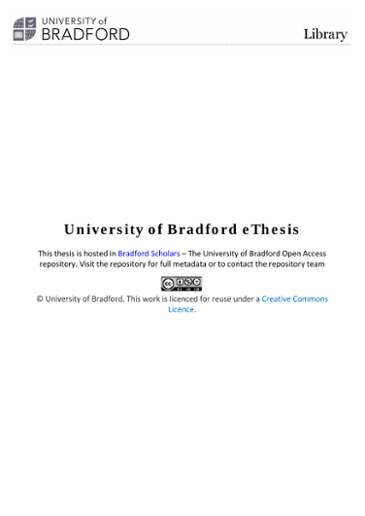 Publication date
2010-06-07T14:37:04Z
Supervisor
Knüsel, Christopher J.
Buckberry, Jo
Rights

The University of Bradford theses are licenced under a Creative Commons Licence.
Institution
University of Bradford
Department
Division of Archaeological, Geographical and Environmental Sciences
Abstract
Asymmetry is a useful tool for osteological analysis as it detects disruptions in the developmental stability of osseous structures attributed to environmental and biomechanical environments. The primary aim of this study is to establish a baseline for normal levels of asymmetry in English archaeological populations in order to distinguish between normal population variation and increased developmental instability or biomechanical stress. Directional and fluctuating asymmetry is assessed through a database of a comprehensive selection of osteological measurements throughout the skeletons of 1753 adults and subadults. The sample is from 11 archaeological sites spanning the Anglo-Saxon to the Victorian periods. The extent of developmental instability is also determined, for the first time, by employing the prevalence of population outliers. The normal range for directional asymmetry was found to be -5.79 to 6.62%, while fluctuating asymmetry was found to be 0 to 6.53%. The extent of asymmetry, however, was found to be trait specific. Deviations from normal population levels of asymmetry were found to be due to a complex mixture of biomechanical and environmental stresses influenced by age, sex, settlement type, socio-economic status, and period-specific origins of the sample populations. Possible causes of asymmetry could be discerned from comparisons of the levels of population asymmetry when placed in the context of physical activity, social networking, health, and environment developed from the historical, archaeological and osteological record.
Collections
Related items
Showing items related by title, author, creator and subject.
Distinct lower visual field preference for object shape

Schmidtmann, G.; Logan, Andrew J.; Kennedy, Graeme J.; Gordon, G.E.; Loffler, G. (

2015-04

)

Humans manipulate objects chiefly within their lower visual field, a consequence of upright posture and the anatomical position of hands and arms.This study tested the hypothesis of enhanced sensitivity to a range of stimuli within the lower visual field. Following current models of hierarchical processing within the ventral steam, discrimination sensitivity was measured for orientation, curvature, shape (radial frequency patterns), and faces at various para-central locations (horizontal, vertical, and main diagonal meridians) and eccentricities (5° and 10°). Peripheral sensitivity was isotropic for orientation and curvature. By contrast, observers were significantly better at discriminating shapes throughout the lower visual field compared to elsewhere. For faces, however, peak sensitivity was found in the left visual field, corresponding to the right hemispheric localization of human face processing. Presenting head outlines without any internal features (e.g., eyes, mouth) recovered the lower visual field advantage found for simple shapes. A lower visual field preference for the shape of an object, which is absent for more localized information (orientation and curvature) but also for more complex objects (faces), is inconsistent with a strictly feed-forward model and poses a challenge for multistage models of object perception. The distinct lower visual field preference for contour shapes is, however, consistent with an asymmetry at intermediate stages of visual processing, which may play a key role in representing object characteristics that are particularly relevant to visually guided actions.

Trade credit terms: asymmetric information and price discrimination evidence from three continents

Pike, Richard H.; Lamminmäki, D.; Cravens, K.; Cheng, N.S. (

2005

)

Trade credit terms offer firms contractual solutions to informational asymmetries between buyers and sellers. The credit period permits buyers to reduce uncertainty concerning product quality prior to payment, while the seller can reduce uncertainty concerning buyer payment intentions by prescribing payment before/on delivery or through two¿part payment terms and other mechanisms. Variation in trade credit terms also offers firms price discriminating opportunities. This study, drawing on the responses of 700 large firms in the US, UK and Australia, explores trade credit terms through the twin objectives of reducing information asymmetries and discriminatory pricing. Support is found for both theories.

Should consumers request cost transparency?

Simintiras, A.C.; Dwivedi, Y.K.; Kaushik, G.; Rana, Nripendra P. (

2015-11

)

Purpose – The purpose of this paper is to propose that consumer choice be guided by price fairness judgements to increase consumer satisfaction and subsequently enhance market efficiency. Consumers en masse lack the information to judge price fairness, thereby causing their ability to influence the economy to be overlooked. Design/methodology/approach – This is an argumentative and conceptual work that aims to initiate a debate on this important yet unexplored issue. The arguments presented in the paper are based on economic and technological considerations. Findings – The measure for enabling a consumer price fairness judgement is unit cost information – the cost incurred by a firm to produce a product and/or service. The benefits and challenges stemming from the availability of unit cost information (i.e. cost transparency) to consumers and companies are presented and the likely impact of cost transparency on addressing information asymmetries between buyers and sellers are discussed. Originality/value – Although a significant body of knowledge exists on issues such as price transparency and how it is driven and enabled by the growth of the Internet, there is little or no evidence of research yet on issues related to cost transparency. The authors believe this work would create a new line of research for scholarly community leading to an impact on practice.