Justice, Care and the Welfare State by Daniel Engster [Book review]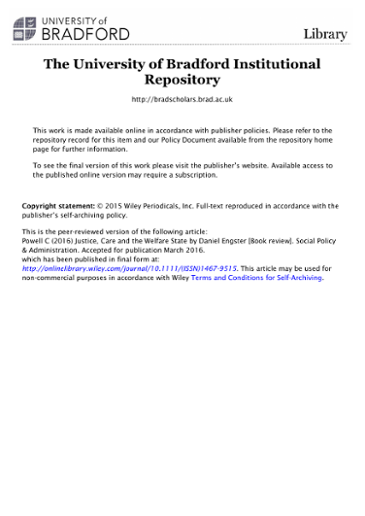 View/Open
Catherine Powell Engster Justice Care and the Welfare State Book Review.pdf (251.5Kb)
Download
End of Embargo
2018-06-01
Abstract
Justice, Care and the Welfare State' presents a justice theory to guide welfare policies across Western societies. As the author highlights "the main value of this book is to provide some insight into how Western welfare states can be reformed to better promote justice under contemporary social and economic conditions" (p.3).
Version
Accepted Manuscript
Citation
Powell C (2016) Justice, Care and the Welfare State by Daniel Engster [Book review]. Social Policy & Administration. Accepted for publication March 2016.
Notes
The full text will be available at the end of the publisher's embargo.
Collections