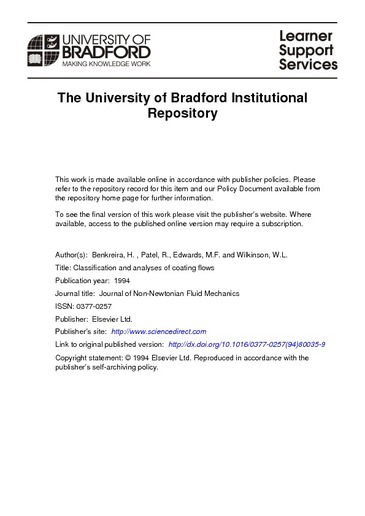 View/Open
Classification and analyses of coating flows in J Non Newtonian Fluid Mech.pdf (151.6Kb)
Download
Rights
© 1994 Elsevier Ltd. Reproduced in accordance with the publisher's self-archiving policy.
Abstract
A classification of coating flows is presented to facilitate a fundamental approach to their study. Four categories are observed: free, metered, transfer and gravure coating flows. They are all limited by free surface(s) which make their analysis difficult. Various analytical approaches have been used and these are briefly reviewed in this paper.
Citation
Benkreira, H., Patel, R., Edwards, M.R. and Wilkinson, W.L. (1994). Classification and analyses of of coating flows. Journal of Non-Newtonian Fluid Mechanics. Vol. 54, pp. 437-447.
Collections