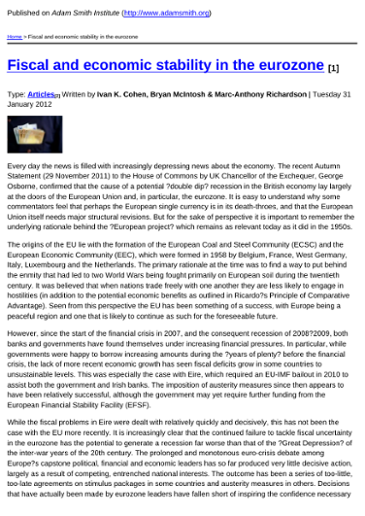 View/Open
Adam Smith Institute - Fiscal and economic stability in the eurozone - 2012-01-31.pdf (22.26Kb)
Download
Rights
© 2012 Adam Smith Institute. Reproduced in accordance with the publisher's self-archiving policy.
Abstract
Every day the news is filled with increasingly depressing news about the economy. The recent Autumn Statement (29 November 2011) to the House of Commons by UK Chancellor of the Exchequer, George Osborne, confirmed that the cause of a potential ?double dip? recession in the British economy lay largely at the doors of the European Union and, in particular, the eurozone. It is easy to understand why some commentators feel that perhaps the European single currency is in its death-throes, and that the European Union itself needs major structural revisions. But for the sake of perspective it is important to remember the underlying rationale behind the ?European project? which remains as relevant today as it did in the 1950s.
Version
published version paper
Citation
Cohen, I. K., McIntosh, B. and Richardson, M.-A. (2012). Fiscal and economic stability in the eurozone. London: Adam Smith Institute. Available from: http://www.adamsmith.org/research/think-pieces/fiscal-and-economic-stability-in-the-eurozone [accessed 13/08/2014].
Collections