Perceptions of the Impact of Positive Action in EU and non-EU Countries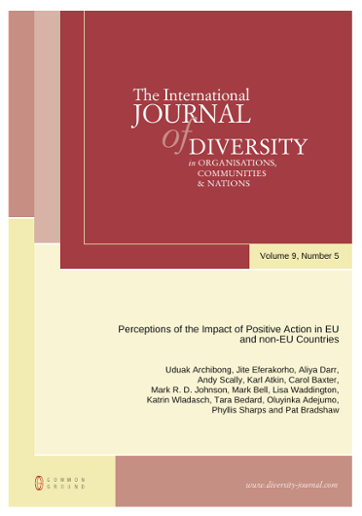 View/Open
D09_19956_PerceptionsoftheimpactofpositiveactioninEUandnon-EUcountries2_final.pdf (1.208Mb)
Download
Rights
© 2009 (individual papers), the author(s) © 2009 (selection and editorial matter) Common Ground. Reproduced in accordance with the publisher's self-archiving policy. All rights reserved. Apart from fair use for the purposes of study, research, criticism or review as permitted under the Copyright Act (Australia), no part of this work may be reproduced without written permission from the publisher. For permissions and other inquiries, please contact cg-support@commongroundpublishing.com
Abstract
Abstract: Around the world, inequalities exist around boundaries of race, social class, gender, disability, religious beliefs and sexual orientation, often resulting from past and current discriminatory practices. Governments have taken certain measures, including enacting policies such as positive action, to remedy such discrimination. This paper provides a comparative analysis of perceptions of the impact of positive action in seven EU and three non-EU countries. The study adopted participatory methods including consensus workshops, interviews and policy analysis to obtain data from designers of positive action. Findings are discussed, conclusions drawn and wide-ranging recommendations are made at the EC, individual countries and organisational levels.
Version
published version paper
Citation
Archibong U, Eferakorho J, Darr A et al (2009) Perceptions of the Impact of Positive Action in EU and non-EU Countries. The International Journal of Diversity in Organisations, Communities and Nations. 9(5): 111-123.
Collections