Exploring neglected elements of cultural competence in social work practice. Promoting and developing understanding of religion, belief and culture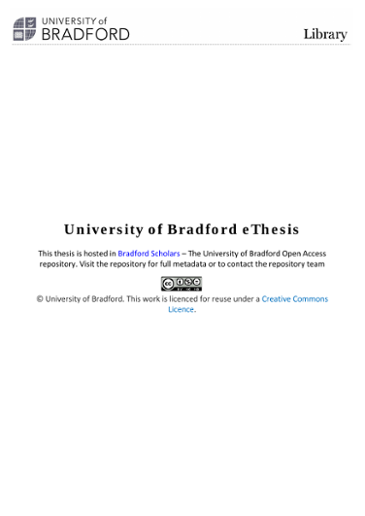 View/Open
P. A. Gilligan Ph.D 2013 Exploring Neglected Elements of Cultural Competence in Social Work.pdf (567.5Kb)
Download
Publication date
2014-05-07
Supervisor
Not named
Rights
The University of Bradford theses are licenced under a
Creative Commons Licence
.
Institution
University of Bradford
Department
Department of Social Work and Social Care
Awarded
2013
Abstract
This PhD by published work consists of: five single authored articles in refereed journals; two main author articles in refereed journals; four jointly authored articles in refereed journals; a single authored article in a non-refereed journal; one jointly authored book, including five single authored chapters; two single authored chapters in edited books. They were published in the period 2003-2013. None has been submitted for any other degree or diploma by me or any other person. The theme running through these publications is the need for social workers to pay significant attention to issues arising from religion, belief and culture. The research reported highlights the impact of such issues on the lives, experiences, resources and responses of individuals, groups and communities for whom they are important. The work emphasises the importance of developing such understanding and of enhancing knowledge of different ways in which religion, belief and culture impact on the issues that social workers deal with. I suggest that these are essential aspects of culturally competent social work practice which have too often been neglected in both research and professional training. The publications are listed in Appendix 1 (pp 56 - 59). They demonstrate how my thinking has developed over the past decade. They reflect and are, in part, a response to the developing professional, theoretical and political ii context within which I have operated as a social work practitioner, manager and academic over a longer period. The majority are solo-authored. However, I remain committed to collaborative work and recognise that discussions with those researched, my collaborators, and others remain invaluable to the ongoing development of my thinking. Joint authorship declaration forms have been completed, in respect of all relevant publications, and are appended. Eight publications (Art.12, Art.11, Art.10, Art.9, Art.8, Art.6, Art.5 and Art.3) are based on findings from primary research, while Art.1 and Art.2 explore published data or data supplied by others to provide original analyses of particular issues. The remaining publications, notably book chapters, are primarily conceptual in their approach. They are underpinned by findings from both the primary research reported elsewhere and the use of case examples collected from semi-structured interviews with social work practitioners.
Type
Thesis
Qualification name
PhD
Notes
PhD by published work. The published articles are not displayed in full text with the online version of the PhD due to publisher copyright restristrictions.
Collections
Related items
Showing items related by title, author, creator and subject.
Evaluating leadership development and practices: an empirical study of the banking sector in Kuwait.

Cornelius, Nelarine; Wallace, James; Malallah, Ammar A.

(

University of BradfordSchool of Management

,

2011-05-20

)

In recent years the important of leadership in the organization has become an area of interest. Leadership has been noted to impact corporate culture, employee commitment and response and the overall performance of the organization. Given the fact that leadership is such an important part of organizational development and discourse, effective methods for developing effective leadership in the organization are needed. Without definitive methods for leadership development, organizations will not be able to optimize the outcomes of leadership in the organization. Thus, there is a clear impetus to delineate what works best in the context of leadership development. This study used concurrent qualitative and quantitative research to understand better the effect of cross-cultural influences on the leadership development programmes and leadership practices development in a study population consisting of managers and supervisors in the Kuwaiti banking industry. Although Kuwaiti organisations employ many international employees and operate foreign subsidiaries, they have not created leadership development programmes to improve cross-cultural leadership skills for managers. As a result, Kuwaiti managers often rely on traditional transactional methods and an authoritarian style of leadership that may be less effective with employees from different nations and cultural backgrounds. The qualitative phase of the research collected data from Kuwaiti bank managers through interviews while the quantitative phase of the research collected data with survey instrument. The quantitative phase of the study also tested the validity of a conceptual model and hypotheses using structural equation modelling and regression analysis. The research was guided by distributed leadership theory, which considers leadership as a series of interactions between leader and follower with the follower sometimes adopting an informal role as temporary leader. The theory also considers the context in which the leader operates as a critical factor for motivating leadership practise. The testing and validation of the theoretical model in the study led to the acceptance of a new 'Effective Cross Cultural Leadership' (ECL) model. This model describes the relationship between the exogenous or independent variables of cultural differences, training and development in traditional Kuwaiti leadership, cross cultural leadership development programmes and international leadership practises with the endogenous or dependent variables of leadership development programmes and leadership practises development. The testing of the hypotheses of the study showed a statistically significant relationship between the four independent variables and the two dependent variables with exception of the relationship between the independent variable of international leadership practises and the dependant variable of leadership programmes development. The quantitative findings also indicated that demographic variables do not have a moderating effect on the model. The qualitative findings of the study determined that cultural differences between employees and managers influence the managers' leadership behaviours and their understanding of the type of leadership development programmes to improve their cross-cultural leadership skills. Managers with greater experience or knowledge of foreign cultures adopt more flexible leadership practises when leading international teams. The qualitative findings also determined that front office managers are more willing to use participative leadership styles in leadership practises, while back office managers rely on authoritarian leadership styles focusing on tasks in their leadership practises, indicating that the context influences leadership styles and practise. The findings of the study including the development and validation of the Effective Cross-Cultural Leadership (ECL) model contribute to the theoretical and practical knowledge of cross-cultural leadership in Kuwait that can be extended to other Middle Eastern nations. In addition, the study finding extends cross-cultural theory by indicating that international influences both internal and external to the organisation affect leadership styles despite national norms and preferences. These findings implied that Kuwaiti organisations experience significant pressure to adopt some international leadership practises and styles to accommodate the expectations and needs of the many international workers employed in Kuwait. The practical implication of these findings showed that Kuwaiti managers would benefit from leadership training emphasising that no standard or correct approach to leadership exists and that it can be acceptable for leaders to use participative styles when warranted by the situation.

Participatory approaches to assessing the health needs of African-Caribbean communities.

Okereke, E.; Archibong, Uduak E.; Chiemeka, Michele; Baxter, C.; Davis, S.

(

2007

)

Previous attempts to involve African and African-Caribbean communities in a city in north England in identifying and assessing their health needs have been largely unsuccessful. A comprehensive literature review highlighted that research on Africans and African-Caribbeans is limited and uneven, and dominated by studies focusing on cardiovascular disease, diabetes, mental health and blood disorders. Health information on these communities is largely based on immigrant mortality statistics derived from national datasets. This paper highlights how participatory approaches to community participation and engagement were used in the assessment of the health needs of culturally diverse minority communities as a means of reducing health disparities. The study sought to overcome the shortcomings of traditional techniques for health needs assessment by testing a novel method of rapid participatory appraisal using a triangulation approach to ensure that all perspectives were addressed. The research adopted a mixed-methods strategy comprising distinct phases: a comprehensive review of the literature, a qualitative needs assessment involving representatives of the African and African-Caribbean communities using meta-planning, and a review of health service provision. The approach used in the study was efficient, rapid and feasible for the African and African-Caribbean people to use in obtaining data from their peers. The findings showed a convergence between areas of need identified by health providers and community members in this appraisal, and between these results and other published literature. However, there was a divergence on the extent of change necessary, with institutional responses stressing alterations within existing systems, and community members recommending the establishment of targeted services for African and African-Caribbean communities run by ethnically matched staff.