Exploring neglected elements of cultural competence in social work practice. Promoting and developing understanding of religion, belief and culture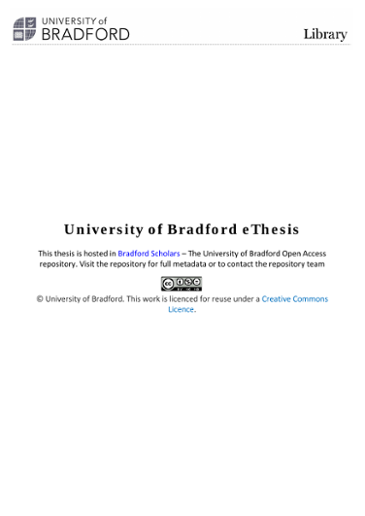 View/Open
P. A. Gilligan Ph.D 2013 Exploring Neglected Elements of Cultural Competence in Social Work.pdf (567.5Kb)
Download
Publication date
2014-05-07
Supervisor
Not named
Rights
The University of Bradford theses are licenced under a
Creative Commons Licence
.
Institution
University of Bradford
Department
Department of Social Work and Social Care
Awarded
2013
Abstract
This PhD by published work consists of: five single authored articles in refereed journals; two main author articles in refereed journals; four jointly authored articles in refereed journals; a single authored article in a non-refereed journal; one jointly authored book, including five single authored chapters; two single authored chapters in edited books. They were published in the period 2003-2013. None has been submitted for any other degree or diploma by me or any other person. The theme running through these publications is the need for social workers to pay significant attention to issues arising from religion, belief and culture. The research reported highlights the impact of such issues on the lives, experiences, resources and responses of individuals, groups and communities for whom they are important. The work emphasises the importance of developing such understanding and of enhancing knowledge of different ways in which religion, belief and culture impact on the issues that social workers deal with. I suggest that these are essential aspects of culturally competent social work practice which have too often been neglected in both research and professional training. The publications are listed in Appendix 1 (pp 56 - 59). They demonstrate how my thinking has developed over the past decade. They reflect and are, in part, a response to the developing professional, theoretical and political ii context within which I have operated as a social work practitioner, manager and academic over a longer period. The majority are solo-authored. However, I remain committed to collaborative work and recognise that discussions with those researched, my collaborators, and others remain invaluable to the ongoing development of my thinking. Joint authorship declaration forms have been completed, in respect of all relevant publications, and are appended. Eight publications (Art.12, Art.11, Art.10, Art.9, Art.8, Art.6, Art.5 and Art.3) are based on findings from primary research, while Art.1 and Art.2 explore published data or data supplied by others to provide original analyses of particular issues. The remaining publications, notably book chapters, are primarily conceptual in their approach. They are underpinned by findings from both the primary research reported elsewhere and the use of case examples collected from semi-structured interviews with social work practitioners.
Type
Thesis
Qualification name
PhD
Notes
PhD by published work. The published articles are not displayed in full text with the online version of the PhD due to publisher copyright restristrictions.
Collections
Related items
Showing items related by title, author, creator and subject.
Management Worldwide: Distinctive Styles Among Globalization.

Hickson, David J.; Pugh, D.S.

(

Penguin

,

2002

)

Businesses today need employees who can operate on a global stage, whether as international managers, technical specialists, expatriates or 'parachutists' who make occasional troubleshooting trips abroad. Yet cultural misunderstandings in the workplace can complicate even the simplest tasks. Something that sounds like a 'Yes' to a foreigner may actually be a polite way of saying 'No'. Fully updated and expanded for this second edition, Management Worldwide is essential for managers, students of management and organizations who want to know how managers operate and business is conducted in different societies. It is essential reading in a global economy where cultural differences can still mean make or break.

Reframing challenging behaviour as cultural resistance: The refusal of bare life in long-term dementia care.

Capstick, Andrea

(

2017-04-28

)

This paper considers the situation of people with dementia who are living in long-term care from two rarely-applied theoretical perspectives. The first, Agamben's theory of biopolitical life versus bare life, demonstrates that the situation of people with dementia living in care homes or hospitals approximates to that of prisoners, internees and refugees, deprived of full citizenship or biopolitical life. In popular imagery people with dementia are frequently referred to, first in terms of numbers, as a 'rising tide', in a way that has historically been used to justify discrimination and social exclusion. In many, care environments it is, moreover, still the case that people with dementia are reduced to a condition of 'bare life' only: given little choice, having few rights, lacking freedom of movement, and subjected to almost constant surveillance. In other contexts, such treatment is known to cause or exacerbate many of the problems which – following a biomedical model – are constructed as 'symptoms of dementia', such as disorientation in time and space, sleep disturbance, hallucinations and repetitive movement. The second body of theory is Bakhtin's work on cultural resistance. This demonstrates that many of the so-called 'challenging behaviours' manifested by people with dementia, can better be understood as coping, sense-making and self-determining strategies adopted in order to survive within prevailing organisational cultures. Based on a series of studies carried out in intermediate and long-term care since 2009, the paper draws on a range of narrative and film-based examples to demonstrate the 'courage, humour, fortitude and cunning' with which, as Walter Benjamin noted, the oppressed have always met the conditions of their oppression. In the process, 'challenging behaviour' is given political and ideological meaning, as protest, perpetrated by people who are struggling against extreme odds to be reinstated as full citizens.