Exploring neglected elements of cultural competence in social work practice. Promoting and developing understanding of religion, belief and culture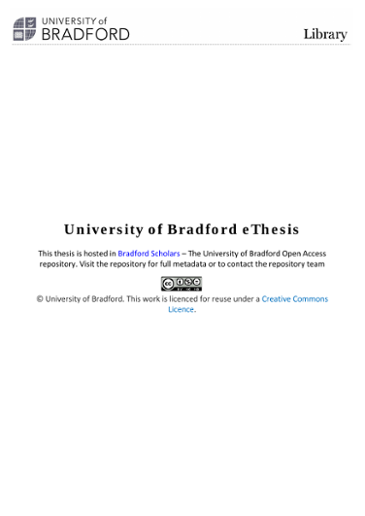 View/Open
P. A. Gilligan Ph.D 2013 Exploring Neglected Elements of Cultural Competence in Social Work.pdf (567.5Kb)
Download
Publication date
2014-05-07
Rights

The University of Bradford theses are licenced under a Creative Commons Licence.
Institution
University of Bradford
Department
Department of Social Work and Social Care
Abstract
This PhD by published work consists of: five single authored articles in refereed journals; two main author articles in refereed journals; four jointly authored articles in refereed journals; a single authored article in a non-refereed journal; one jointly authored book, including five single authored chapters; two single authored chapters in edited books. They were published in the period 2003-2013. None has been submitted for any other degree or diploma by me or any other person. The theme running through these publications is the need for social workers to pay significant attention to issues arising from religion, belief and culture. The research reported highlights the impact of such issues on the lives, experiences, resources and responses of individuals, groups and communities for whom they are important. The work emphasises the importance of developing such understanding and of enhancing knowledge of different ways in which religion, belief and culture impact on the issues that social workers deal with. I suggest that these are essential aspects of culturally competent social work practice which have too often been neglected in both research and professional training. The publications are listed in Appendix 1 (pp 56 - 59). They demonstrate how my thinking has developed over the past decade. They reflect and are, in part, a response to the developing professional, theoretical and political ii context within which I have operated as a social work practitioner, manager and academic over a longer period. The majority are solo-authored. However, I remain committed to collaborative work and recognise that discussions with those researched, my collaborators, and others remain invaluable to the ongoing development of my thinking. Joint authorship declaration forms have been completed, in respect of all relevant publications, and are appended. Eight publications (Art.12, Art.11, Art.10, Art.9, Art.8, Art.6, Art.5 and Art.3) are based on findings from primary research, while Art.1 and Art.2 explore published data or data supplied by others to provide original analyses of particular issues. The remaining publications, notably book chapters, are primarily conceptual in their approach. They are underpinned by findings from both the primary research reported elsewhere and the use of case examples collected from semi-structured interviews with social work practitioners.
Notes
PhD by published work. The published articles are not displayed in full text with the online version of the PhD due to publisher copyright restristrictions.
Collections
Related items
Showing items related by title, author, creator and subject.
The Development of Theory of Mind and Social Competence in Young Pakistani Children

Waters, Gillian M.; Johnson, Sally E.; Sireer, Nafeesa (

University of BradfordDivision of Psychology, Faculty of Social Sciences

,

2017

)

Theory of mind (ToM) refers to a cognitive ability that enables one to attribute mental states (such as desires, emotions, beliefs) to self and others. In recent years researchers have identified cultural variations in the onset of ToM understanding in collectivist and individualist cultures. However, the findings of cross-cultural studies regarding these variations are inconsistent. The major aim of this innovative research was to investigate differences in the acquisition of ToM in children from a collectivist culture (Pakistan) and an individualist culture (UK). The second aim of the study was to assess the specific association between ToM and social competence in a culturally diverse sample. An additional aim of the study was to investigate the universality of various correlates of ToM such as executive functioning (EF), parenting styles, and maternal mental state talk. The findings of the studies demonstrated a significant delay in the acquisition of ToM in Pakistani children, when compared with Western children from individualist societies. These findings were corroborated by the results of novel cross-cultural study that compared the performance of White British, British Pakistani, and Pakistani children on a ToM scale. White British children outperformed both Pakistani and British Pakistani children on measures of ToM, EF, and social competence. The current findings also provide support for the association of mental state understanding with EF, social competence, parenting styles, and maternal mental state talk. These findings have important implications for the role of general (collectivist vs. individualist cultures) as well as specific cultural practices (such as parenting and education) in the acquisition of mental state understanding.

Information Security Behavior: A Cross-Cultural Comparison of Irish and US Employees

Connolly, Lena Y.; Lang, M.; Wall, D.S. (

Taylor & Francis

,

2019-08-09

)

This study explores how aspects of perceived national culture affect the information security attitudes and behavior of employees. Data was collected using 19 semi-structured interviews in Ireland and the United States of America (US). The main findings are that US employees in the observed organizations are more inclined to adopt formalized information security policies and procedures than Irish employees, and are also more likely to have higher levels of compliance and lower levels of non-compliance.