The design of a high volume manufacturing line using a strategic management approach. The design, planning and implementation of the high volume manufacturing line with emphasis on Lean Manufacturing, Total Quality Management and Change Management principles.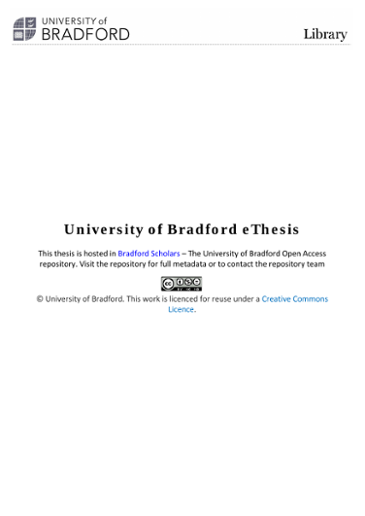 View/Open
THE DESIGN OF A HIGH VOLUME MANUFACTURING LINE USING A STRATEGIC MANAGEMENT APPROACH.pdf (6.870Mb)
Download
Publication date
2014-05-02
Supervisor
Khan, M. Khurshid
Rights

The University of Bradford theses are licenced under a Creative Commons Licence.
Institution
University of Bradford
Department
School of Engineering, Design and Technology
Abstract
This thesis examines and develops a proposed manufacturing system methodology and quality control for the design, planning, scheduling and implementation of the Thermiculite 866 high volume manufacturing line, through the use of Lean Manufacturing, Total Quality Management and Change Management principles. The concept under investigation extends to the analysis of flow production benefits and restrictions considering specific characteristics of the product. A novel factory design methodology is proposed to achieve required production volumes and cost effective implementation. Furthermore, high product quality levels are warranted by developing a Strategic Alignment of Quality Function Deployment which brings commercial awareness to the early stages in the product/process development, and reduces the time to market it whilst promoting long-term solutions. The process and the layout design are supported by a proposed Batch/Flow Comparative Matrix. As a result, the proposed factory design methodologies and management of change introduced in the organization led to a successful production system design as well as controlled implementation according to stakeholders requirements. The design and partial implementation of the Thermiculite 866 production line illustrates the effectiveness of the methodology proposed in this thesis to manage and design the equipment and quality for the future Thermiculite production line.
Collections
Related items
Showing items related by title, author, creator and subject.
An integrated manufacturing strategy for implementation of lean manufacturing, six sigma and cadcam methodologies in a small medium manufacturing environment (SMME).

Khan, M. Khurshid; Esan, Adedeji O. (

University of BradfordSchool of Engineering, Design and Technology

,

2010-11-23

)

The world is changing rapidly for the engineering community. Sustainability in every sense has become the watchword¿in terms of product manufacture and performance, and responding to global market and environmental pressures. A well thought-out manufacturing strategy can help organisations make choices that support its overall business objectives, respond to new opportunities and challenges as they arise. However, manufacturing strategy configuration and deployment in SMME¿s is a neglected field in manufacturing strategy literatures. More importantly, the application of lean manufacturing, Six Sigma and CIM strategies are said to be more applicable to batch production environments and large manufacturing organisations but not to SMMEs that operates a job shop type operating characteristics and with limited resource availability. With recognition that most of these methodologies were originally conceptualised and implemented in large manufacturing environments with batch and flow type manufacturing architecture, the need to develop solutions specific to SMME¿s with job shop type operating characteristics (tooling reclamation industry in particular) is imperative. The fundamental essence of this research is the development of an integrated manufacturing strategy which is based on Lean-Six Sigma-MRP-CADCAM methodologies at the case company. The framework for deploying this strategy is based on inputs from a business environment analysis, a lean strategic planning module (based on production planning and manufacturing/product cost structure analysis) and a lean resource planning interface that is predicated on value stream analysis and simulation models. The material and information flows of the case company manufacturing systems were studied. The approach taken emphasis the well know value engineering concepts of multiple-stage manufacturing system accumulating costs/time between individual stages as well as by transfer/material handling and work-in-process. The study shows that maximisation of capacity and resource utilisation, queue less work flow and flexible labour policies that support the case company¿s manufacturing system offer potential for reform which can substantially enhance customer service, product quality and overall improvement in investment returns.

The development of a hybrid knowledge-based system for the design of a Low Volume Automotive Manufacturing (LVAM) system

Mohamed, N.M.Z.Nik; Khan, M. Khurshid (

2012

)

A conceptual design approach is an important stage for the development of a hybrid Knowledge-Based System (KBS) for Low Volume Automotive Manufacturing (LVAM). The development of a hybrid KBS, which is a blend of KBS and Gauging Absences of Pre-requisites (GAP), is proposed for LVAM research. The hybrid KB/GAP system identifies all potential elements of LVAM issues throughout the development of this system. The KBS used in the system design stage of the LVAM system analyses the gap between the existing and the benchmark organisations for an effective implementation through the GAP analysis technique. The proposed KBLVAM model at the design stage explores three major components, namely LVAM car body parts manufacturing perspective, LVAM competitive priorities perspective and LVAM lean environment perspective. Initial results reveal that the KBLVAM system has identified, for each perspective modules and sub-modules, the Problem Categories (PC) in a prioritised manner.

Integrated manufacturing strategy for deployment of CADCAM methodology in a SMME

Esan, Adedeji O.; Khan, M. Khurshid; Qi, Hong Sheng; Craig, N. (

2013

)

Purpose – Cost reduction through the use of technology has become the competitive strength of companies. The benefits of technology integration are quite credible and have been effective in business competition. The purpose of this paper is to describe an integrated manufacturing strategy for the deployment of a CAD/CAM system in a small, medium manufacturing enterprise (SMME). Design/methodology/approach – A case study of a SMME is utilised in deploying an integrated CAD/CAM system for practical application of manufacturing technology for achieving sustainable growth through lean systems design (LSD). The paper presents a techno-economic and technology change management framework, with an application of a holistic set of lean deployment tools that include establishing a strategic and operational plan for implementing CAD/CAM systems as a means to achieving world-class performance. Findings – The paper shows that the CAD/CAM integration within the case company increased knowledge of CAD/CAM technology, productivity, and flexibility whilst reducing throughput times. Based on the literature review and the current case study, a framework for ideal CAD/CAM implementation has been proposed. The paper also shows that management and organisational structures are key inhibitors for successful implementation of technology integration. Research limitations/implications – The paper uses a single case study to validate deployment of the integrated manufacturing strategy in SMMEs. Hence there is a limitation to its generality. Practical implications – ThepaperprovidesanopportunitytofurtherunderstandCAD/CAMsystem implementation protocols within a well structured framework and its configuration within SMMEs. Social implications – The CAD/CAM implementation framework will allow the SMMEs to achieve Lean manufacturing (thereby minimising wastes) leading to improved growth and employment rates. Originality/value – The presentation of conceptualisation, development and implementation of an integrated CAD/CAM system in support of organisational wide Lean manufacturing initiative in SMMEs is an originality of this paper.