The impact of domestic water user cultures on water efficiency interventions in the South East of England: Lessons for water demand management.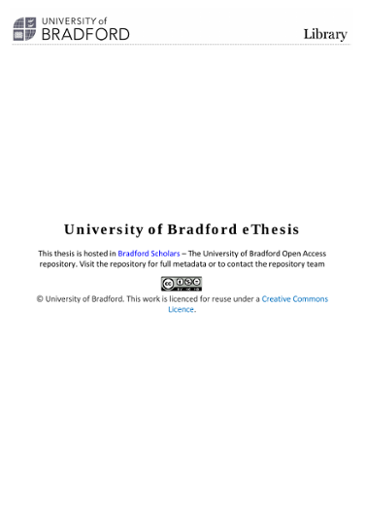 Publication date
2012-01-11
Supervisor
Sharp, Liz
Hopkinson, Peter G.
Rights

The University of Bradford theses are licenced under a Creative Commons Licence.
Institution
University of Bradford
Department
Department of Geography and Environmental Science
Abstract
The need for a more sustainable approach to water consumption has increasingly gained attention in the last decade. The domestic sector accounts for over half of abstracted water in the UK and, as such, has become a major target for water efficiency interventions. Current research and water efficiency interventions are dominated by a positivist approach, focusing on a limited range of factors that can be quantitatively measured. This thesis questions the dominant approach and argues that a more holistic overview of water efficiency can be achieved through the consideration of socio-technical and behavioural theories. Taking a more constructivist approach, this research draws on four theories from socio-technical and behavioural fields and combines them to create a framework for the analysis of water efficiency interventions. The framework is applied to two case studies, exploring water users¿ perceptions of water, water supply, personal water use, and their responses to the water efficiency interventions. The case studies were selected to provide examples of current mainstream approaches to water demand management. Research methods used included semi-structured interviews and observation. The research findings support the argument that the current dominant approach to domestic water efficiency interventions is limited and, in some cases, ineffectual. Issues of trust, knowledge, motivation and the relationships between water users and water companies were raised. The thesis concludes that the use of a constructivist perspective could help to provide a more effective approach to understanding and improving water demand management.
Collections
Related items
Showing items related by title, author, creator and subject.
Adaptive Water Management Concepts: Principles and Applications for Sustainable Development

Edalat, F.D.; Abdi, M. Reza (

2017

)

his book explores a new framework of Adaptive Water Management (AWM) for evaluating existing approaches in urban water management. It highlights the need to adopt multidisciplinary strategies in water management while providing an in-depth understanding of institutional interactions amongst different water related sectors. The key characteristics of AWM i.e. polycentric governance, organisational flexibility and public participation are investigated and described through a critical review of the relevant literature. The book presents an empirical case study undertaken in a selected developing-country city to investigate the potential gaps between the current water management approaches and possible implementation of AWM. Feasibility of AWM operations is examined in an environment surrounded by established water management structure with centralised governance and an institutional process based on technical flexibility. The key elements of AWM performance are (re)structured and transformed into decision support systems. Multi criteria decision models are developed to facilitate quantification and visualization of the elements derived from the case study, which is involved with water companies and water consumers. The book describes how the concept of AWM, along with structuring suitable decision support systems, can be developed and applied to developing-country cities. The book highlights the barriers for applying the AWM strategies that include established centralised decision making, bureaucratic interactions with external organisations, lack of organisational flexibility within the institutions, and lack of recognition of public role in water management. The findings outline that despite the lack of adaptability in the current water management in the case study, as an example of developing countries, there are positive attitudes among water professionals and the public towards adaptability through public-institutional participation.

Direct Calculation of Solid-Liquid Interfacial Free Energy for Molecular Systems: TIP4P Ice-Water Interface

Anwar, Jamshed; Davidchack, R.; Handel, R.; Brukhno, Andrey V. (

2008

)

By extending the cleaving method to molecular systems, we perform direct calculations of the ice Ih-water interfacial free energy for the TIP4P model. The values for the basal, prism, and f11 20g faces are 23:3 0:8 mJm 2, 23:6 1:0 mJm 2, and 24:7 0:8 mJm 2, respectively. The closeness of these values implies a minimal role of thermodynamic factors in the anisotropic growth of ice crystals. These results are about 20% lower than the best experimental estimates. However, the Turnbull coefficient is about 50% higher than for real water, indicating a possible limitation of the TIP4P model in describing freezing.

Issues of trust, fairness and efficacy: a qualitative study of information provision for newly metered households in England.

Knamiller, C.; Sharp, Liz (

2009

)

There is widespread agreement among agencies governing UK water management that more extensive domestic water metering combined with additional measures will deliver a more efficient domestic water usage. This paper argues that qualitative research is needed to select and hone additional measures. According to theory, cooperation to reduce water use is more likely if people: a) believe in the necessity to reduce use; b) feel costs are fairly shared; and c) believe their actions can affect the situation. The case study of Lydd, Kent, is presented. Lydd is the first location in which compulsory water metering has been imposed in the UK. Qualitative information was collected to inform the communication strategies being implemented by the water supply company. The investigation found that none of the three factors predicted by theory were completely present. The paper concludes by providing some recommendations for improving the water company's communications strategy for encouraging a reduction in domestic water use. The key role of qualitative information in assisting in the targeting and design of water demand management programmes is highlighted.