Identification of human hair follicle antigens targeted in the presumptive autoimmune hair follicle disorder Alopecia Areata and their potential functional relevance In Vitro. Methods development for isolation and identification of Alopecia Areata-relevant human hair follicle antigens using a proteomics approach and their functional assessment using an Ex Vivo hair follicle organ culture model.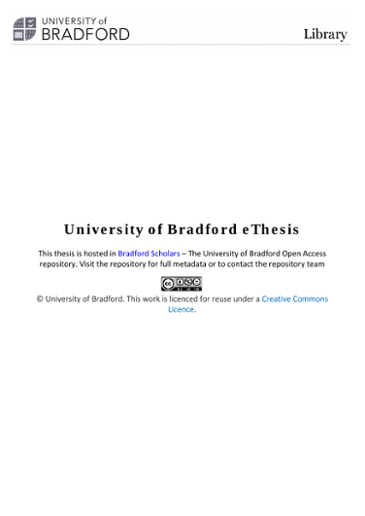 Publication date
2010-06-09T15:40:45Z
Supervisor
Tobin, Desmond J.
Rights

The University of Bradford theses are licenced under a Creative Commons Licence.
Institution
University of Bradford
Department
Department of Biomedical Sciences
Abstract
Alopecia areata (AA) is a putative autoimmune hair loss disorder. It mainly affects the scalp hair but can also involve body hair, and can also affect the nail and the eye. While there are may be several lines of evidence to support the autoimmune basis of AA, there is still very little information on the hair follicle autoantigen(s) involved in its pathogenesis. In this project, serum antibodies (AA=10, control=10) were used to immunoprecipitate AA-relevant target antigens from normal human scalp hair follicle extracts. These immunoprecipitates were analysed by LC-MALDI-TOF/TOF mass spectrometry for target protein identification. This part of the project involved substantial methods development. Trichohyalin was immunoprecipitated by all AA sera, but by only 5 normal sera. Importantly, the mean Mascot scores of the AA group was significantly higher than the normal group (p=0.005). Keratin 16 was also identified from immunoprecipitates as another potential AA-relevant target antigen. Functional studies by ex vivo whole hair follicle organ culture using commercial antibodies to trichohyalin and keratin 16 significantly inhibited hair fibre elongation compared to controls. Indirect immunofluorescence studies revealed that AA sera contained higher immunoreactivity against normal human scalp anagen hair follicles compared to normal sera. Immunoreactivities were mainly in the outer root sheath and inner root sheath, and less so to the medulla and hair bulb matrix. Double immunofluorescence studies of AA and normal serum with anti-trichohyalin antibody (AE15) revealed co-localisation of 9 of the AA sera antibodies with trichohyalin in the inner root sheath (mostly in Henle¿s, less in Huxley¿s/inner root sheath cuticle), but only weakly in 3 normal sera. This study supports the involvement of an antibody response to anagen-specific hair follicles antigens in AA. Moreover, there may be some evidence that these antibodies may have a pathogenic role.
Collections
Related items
Showing items related by title, author, creator and subject.
Development of a novel, clinically-relevant model for investigating factors that stimulate human hair growth

Randall, Valerie A.; Tobin, Desmond J.; Miranda, Benjamin H. (

University of BradfordPlastic Surgery and Burns Research Unit, Department of Biomedical Sciences

,

2013-12-02

)

Lack of hair due to alopecia or skin grafting procedures causes significant distress due to hair's role in social and sexual communication. Only limited pharmacological agents are currently available to stimulate hair growth; their development is hampered by inappropriate model systems. Most research involves large terminal scalp follicles rather than the clinical targets of tiny vellus or intermediate follicles. The overall aim of this thesis was to develop a novel model system based on intermediate hair follicles. Initially, intermediate follicles from female pre-auricular skin were characterised and compared to matched terminal follicles. Intermediate follicles were smaller, less pigmented, shorter and possessed a more 'tubular' bulb morphology than their more 'bulbous' terminal counterparts. Significant correlations were demonstrated between various hair follicle measurements and corresponding dermal papilla diameters. Isolated terminal follicles grew significantly more than intermediate hair follicles in organ culture for 9 days. Testosterone (10nM), the major regulator of human hair growth, increased only intermediate follicle growth; the anti-androgen, cyproterone acetate (1¿M), prevented this stimulation, unlike the 5¿-reductase type 2 inhibitor finasteride (40ng/ml). Immunohistochemistry demonstrated androgen receptor and 5¿-reductase type 2 proteins in both follicle types, while quantitative real-time PCR and gene microarray analysis detected their increased gene expression in intermediate follicles. Thus, smaller intermediate follicles showed major morphological and gene expression differences to terminal follicles in vivo and retained significant, biologically-relevant differences in vitro in organ culture including androgen-responsiveness. Therefore, intermediate hair follicles offer a novel, exciting, more clinically relevant, albeit technically difficult, model for future investigations into hair growth.

The lysosomal protease cathepsin L is an important regulator of keratinocyte and melanocyte differentiation during hair follicle morphogenesis and cycling.

Tobin, Desmond J.; Foitzik, K.; Reinheckel, T.T.; Hecklenberg, L.; Botchkarev, Vladimir A.; Peters, S.C.; Paus, R. (

2002

)

We have previously shown that the ubiquitously expressed lysosomal cysteine protease, cathepsin L (CTSL), is essential for skin and hair follicle homeostasis. Here we examine the effect of CTSL deficiency on hair follicle development and cycling in ctsl-/- mice by light and electron microscopy, Ki67/terminal dUTP nick-end labeling, and trichohyalin immunofluorescence. Hair follicle morphogenesis in ctsl-/- mice was associated with several abnormalities. Defective terminal differentiation of keratinocytes occurred during the formation of the hair canal, resulting in disruption of hair shaft outgrowth. Both proliferation and apoptosis levels in keratinocytes and melanocytes were higher in ctsl-/- than in ctsl+/+ hair follicles. The development of the hair follicle pigmentary unit was disrupted by vacuolation of differentiating melanocytes. Hair cycling was also abnormal in ctsl-/- mice. Final stages of hair follicle morphogenesis and the induction of hair follicle cycling were retarded. Thereafter, these follicles exhibited a truncated resting phase (telogen) and a premature entry into the first growth phase. Further abnormalities of telogen development included the defective anchoring of club hairs in the skin, which resulted in their abnormal shedding. Melanocyte vacuolation was again apparent during the hair cycle-associated reconstruction of the hair pigmentary unit. A hallmark of these ctsl-/- mice was the severe disruption in the exiting of hair shafts to the skin surface. This was mostly because of a failure of the inner root sheath (keratinocyte layer next to the hair shaft) to fully desquamate. These changes resulted in a massive dilation of the hair canal and the abnormal routing of sebaceous gland products to the skin surface. In summary, this study suggests novel roles for cathepsin proteases in skin, hair, and pigment biology. Principal target tissues that may contain protein substrate(s) for this cysteine protease include the developing hair cone, inner root sheath, anchoring apparatus of the telogen club, and organelles of lysosomal origin (eg, melanosomes).

Topobiology of human pigmentation: P-cadherin selectively stimulates hair follicle melanogenesis

Samuelov, L.; Sprecher, E.; Sugawara, K.; Singh, Suman K.; Tobin, Desmond J.; Tsuruta, D.; Bíró, T.; Kloepper, J.E.; Paus, R. (

2013

)

P-cadherin serves as a major topobiological cue in mammalian epithelium. In human hair follicles (HFs), it is prominently expressed in the inner hair matrix that harbors the HF pigmentary unit. However, the role of P-cadherin in normal human pigmentation remains unknown. As patients with mutations in the gene that encodes P-cadherin show hypotrichosis and fair hair, we explored the hypothesis that P-cadherin may control HF pigmentation. When P-cadherin was silenced in melanogenically active organ-cultured human scalp HFs, this significantly reduced HF melanogenesis and tyrosinase activity as well as gene and/or protein expression of gp100, stem cell factor, c-Kit, and microphthalmia-associated transcription factor (MITF), both in situ and in isolated human HF melanocytes. Instead, epidermal pigmentation was unaffected by P-cadherin knockdown in organ-cultured human skin. In hair matrix keratinocytes, P-cadherin silencing reduced plasma membrane β-catenin, whereas glycogen synthase kinase 3 beta (GSK3β) and phospho-β-catenin expression were significantly upregulated. This suggests that P-cadherin-GSK3β/Wnt signaling is required for maintaining the expression of MITF to sustain intrafollicular melanogenesis. Thus, P-cadherin-mediated signaling is a melanocyte subtype-specific topobiological regulator of normal human pigmentation, possibly via GSK3β-mediated canonical Wnt signaling.