The impact of E-marketing practices on market performance of small business enterprises. An empirical investigation.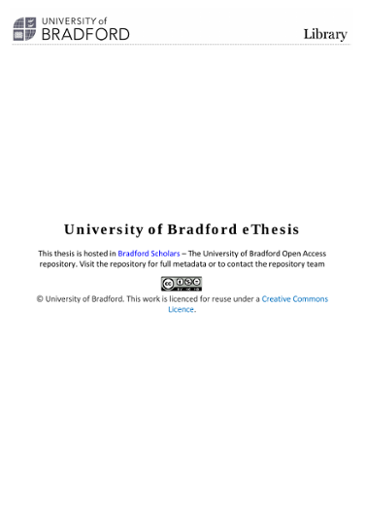 Publication date
2010-05-19T08:57:07Z
Supervisor
Trueman, Myfanwy
Fukukawa, Kyoko
Rights

The University of Bradford theses are licenced under a Creative Commons Licence.
Institution
University of Bradford
Department
School of Management
Abstract
The major aims of this research are to explore and analyse the different factors affecting the adoption of Electronic Marketing (E-Marketing) by industrial and trading small business enterprises (SBEs); to explore the different forms, implementation levels and tools of E-Marketing used by these SBE and to investigate the relationship between E-Marketing adoption and industrial and trading SBEs marketing performance. It aims to develop a theoretical model that can help to understand and interpret these relationships and seeks to evaluate the potential of E-Marketing for SBEs in developed countries (UK) and developing countries (Egypt). This work builds on previous research in the fields of E-marketing and SBEs and adds to the relatively limited empirical research that has been conducted on E-Marketing in a small business context. This research develops and validates a conceptual model based on systematic and in-depth analysis of the literature in the field as well as the results of two exploratory studies conducted in Egypt and UK. It utilises a post-positivist research philosophy with a triangulation approach, in which quantitative and qualitative data is collected based on survey strategy through questionnaires, focus group and semi-structured interviews to address different levels of the study. Even though triangulation requires a commitment to greater amounts of effort, time and funds, it has the advantage of removing the bias that is often associated with the use of a single technique. This research finds that E-Marketing adoption by SBEs is significantly affected by their perception of E-Marketing relative advantage (usefulness), ease of use, compatibility as well as the SBE internal factors such as owner skills and support, available resources, organisational culture, type of products, international orientation and SBE size. On the other hand, the SBE internal factors have a positive direct impact on Technology Acceptance Model (TAM) and Innovation Diffusion Theory (IDT) related factors such as perceived ease of use, perceived relative advantage and perceived compatibility. These findings indicate that Internet Marketing and E-Mail Marketing are the most commonly used E-Marketing tools and that E-Marketing adoption has a strong positive impact on current and future marketing performance of SBEs. In terms of contribution to knowledge, this study provides an insight for entrepreneurs, policy makers, practitioners, researchers, and educators by providing a clearer view and deep understanding of the issues related to E-Marketing adoption and practices by small business enterprises as opposed to large companies. It addresses some research gaps in the field, particularly in terms of the impact of E-Marketing on marketing performance. The research model has been tested by a major survey of UK SBEs with a response rate of 32%, and has been robustly tested for reliability and validity. Moreover, the exploratory survey in Egypt indicated that there is another rich seam for investigation in terms of E-Marketing in developing countries. Overall the theory in the field of E-Marketing is still in its infancy stage and is not yet well established. This study can be considered as a step towards theory building in the field of E-marketing and has brought to light a number of concepts for the practice of E-Marketing by SBEs.
Collections