Exporting knitted apparel. A study of the determinants of exporting performance in the UK knitted apparel sector.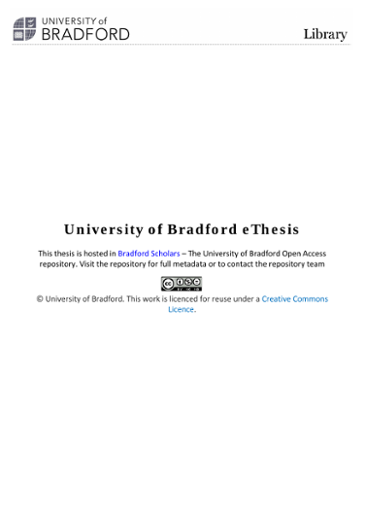 Publication date
2010-05-07T15:37:22Z
Rights

The University of Bradford theses are licenced under a Creative Commons Licence.
Institution
University of Bradford
Department
School of Engineering, Design and Technology
Abstract
As the globalisation process accelerates there is a growing need for individual countries to understand the bases for effective performance in international trade. Because it makes up such a large share of world trade, it is especially important to understand what determines effectiveness in exporting. Despite much empirical research, especially over recent decades, the state of knowledge on this topic remains fragmented, unclear and unsatisfactory. The motivation for the present study was therefore twofold: dissatisfaction with the present state of knowledge in this vital area and the importance to the UK economy of improving its export performance in a world of increasing competition. Its aim was to contribute to the resolution of both. In addition to finding what appeared to be quite serious methodological problems in a group of earlier studies, our review of the literature indicated that the best prospects for identifying the determinants of effective exporting were to be found, not at national or sectoral level but at that of the individual firm. Accordingly, an empirical survey research project was developed. To minimise unquantifiable inter-sectoral variability, it was focused on a single sector of industry. For a range of reasons, including the limited amount of information available about its current export activity and prospects, the UK knitted apparel industry was chosen.. Special care having been taken to assemble the fullest possible sampling frame and to develop a suitable instrument (which included an export performance model), a mail survey in the form of a stratified random sample of exporting UK manufacturers of knitted apparel was carried through from late 2000. Persistent follow-up by mail and telephone generated a response rate of 70 per cent, comprising close to half of the sampling frame, that was representative of all company size bands, levels of exporting and products. The overall quality of the responses was good; tests of non-response did not find any indications of non-response bias. Data analysis, designed to test thoroughly our 10 export-determinants hypotheses, relied primarily on Pearsonian correlation at the bivariate level then sequentially on Multiple Regression Analysis, Canonical Correlation Analysis and Partial Least Squares. A perhaps slightly novel aspect of the research was that it was not solely cross-sectional in format; a longitudinal element was provided by drawing on the researcher¿s earlier surveys ; and a panel element by following-up, in 2007, the main 2000 field survey. Where possible, these data were drawn upon in the analysis and interpretation. There did not appear to be any conflict between the three multivariate techniques employed and indeed their findings were not dissimilar. The outcome of the data analysis was to uphold, to varying degrees, most of our hypotheses about the determinants of effective/ or successful exporting. Those that did not find support were three: firm size, product adaptation, and price determination method. Most strongly supported as determinants were promotional intensity, serving many markets and visits to trade fairs/ exhibitions; others which were statistically significant, included management commitment, special staff skills and the use of Commission Agents. While the conclusions must remain a bit tentative they are encouraging.
Collections
Related items
Showing items related by title, author, creator and subject.
The Economic Costs and Benefits of UK Defence Exports.

Chalmers, Malcolm G.; Davies, N.; Hartley, K.; Wilkinson, C. (

2009-11-25

)

This study examines the economic costs and benefits to the UK of a 50 per cent cut in UK defence exports from the average level of 1998 and 1999. The net impact on the government budget is estimated to he an ongoing loss of between around L40 million and L100 million a year: around 0.2-0.4 per cent of the total UK defence budget. In addition, there is estimated to be a one-off net adjustment cost, spread over five years, of between L0.9 billion and L1.4 billion. A further more speculative adjustment cost (estimated at around L1.1billion) could result if the loss of income associated with the `terms-of-trade' effect were also included. In terms of the wider debate about defence about defence exports, the results of this study suggest first that the economic effects of the reduction in defence exports are relatively small and largely one-off, and secondly that the balance of arguments about UK defence exports should be determined mainly by non-economic factors.

Policy Reform and the Economic Development of Tanzania.

Potts, David J. (

Bradford Centre for International Development

,

2005-12

)

This paper reviews the long-term economic performance of Tanzania since independence using long-term series of key economic and social indicators constructed from a variety of sources. The disastrous export performance for most of the period under consideration can be attributed partly to domestic policy failures and partly to a hostile external environment. However inconsistent donor support to a highly aid dependent economy at times exacerbated the constraints imposed by persistent foreign exchange shortages. Greater stability in funding and a more flexible policy dialogue are needed. The extent to which a small and poor economy with a weak indigenous private sector can rely on foreign private investment to finance investment in the early stages of adjustment is questioned. Investment in human capital beyond primary school level is also needed if growth is to be sustained.

DES Working Paper No 2: 'Changing Trade Structure and Its Implications for China'

Weiss, John A. (

Department of Development and Economic Studies, University of Bradford

,

2009-02

)

Based on the insight that the type of product an economy exports can have important implications for its economic performance and that goods exported predominantly by rich countries will have different characteristics from those exported by poor countries, Lall et al (2006) put forward a novel means of classifying commodities based on the income levels of a product¿s main exporters. At around the same time Hausmann et al (2006) following a similar approach put forward a slightly different form of product classification and Rodrik (2006) applied this specifically to an analysis of China. This paper highlights the difference between the approaches and its implications for the analysis of China, which appears less `special¿ using the approach of Lall et al.