Vibro-acoustic products from re-cycled raw materials using a cold extrusion process. A continuous cold extrusion process has been developed to tailor a porous structure from polymeric waste, so that the final material possesses particular vibro-acoustic properties.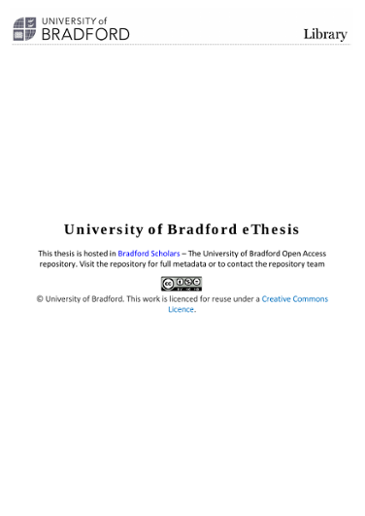 Publication date
2010-05-07T11:32:02Z
Supervisor
Horoshenkov, Kirill V.
Benkreira, Hadj
Rights
© 2008 Khan, Amir. This work is licensed under a Creative Commons Attribution-Non-Commercial-Share-Alike License (http://creativecommons.org/licenses/by-nc-nd/2.0/uk).
Institution
University of Bradford
Department
School of Engineering, Design and Technology.
Awarded
2008
Abstract
A cold extrusion process has been developed to tailor a porous structure from polymeric waste. The use of an extruder to manufacture acoustic materials from recycled waste is a novel idea and the author is not aware of any similar attempts. The extruder conveys and mixes the particulates with a reacting binder. The end result is the continuous production of bound particulates through which a controlled amount of carbon dioxide gas that is evolved during the reaction is used to give the desired acoustic properties. The cold extrusion process is a low energy consuming process that reprocesses the post manufacturing waste into new vibro-acoustic products that can be used to meet the growing public expectations for a quieter environment. The acoustical properties of the developed products are modelled using Pade approximation and Johnson-Champoux-Allard models. Applications for the developed products are widespread and include acoustic underlay, insulation and panels in buildings, noise barriers for motorways and railway tracks, acoustic insulation in commercial appliances and transport vehicles.
Type
Thesis
Qualification name
PhD
Collections
Related items
Showing items related by title, author, creator and subject.
Effect of polymer matrix on the rheology of hydroxapatite filled polyethylene composites.

Martyn, Michael T.; Joseph, R.; McGregor, W.J.; Tanner, K.E.; Coates, Philip D.

(

2002

)

The effect of matrix polymer and filler content on the rheological behavior of hydroxyapatite-filled injection molding grade high-density polyethylene (HDPE) has been studied. Studies of the flow curves revealed that the matrix and the composite exhibit three distinct regions in the flow curve, namely, a pseudoplastic region at low to moderate shear rates, a plateau and a second pseudoplastic region at high shear rates. The shear stress corresponding to the plateau (Tc) is dependent on both the filler concentration and the melt temperature. Addition of HA in the HDPE matrix increases the value of Tc and decreases compressibility of the melt. An increase in temperature also raises the value of Tc. From the nature of flow curves it is concluded that the matrix polymer largely decides the rheology of the composite.

Shear stress distribution within narrowly constrained structured grains and granulated powder beds

Antony, S.J.; Al-Sharabi, M.; Rahmanian, Nejat; Barakat, T.

(

2015-11

)

An experimental study is presented here to understand the stress transmission characteristics under different geometrical arrangements of particulates inside a narrow chamber subjected to axial compression loading. The multi-grain systems considered here are face-centred, simple cubic and poly-dispersed structures, as well as inclusions embedded inside seeded, unseeded and cohesive powder bed of Durcal (calcium carbonate). The distribution of the maximum shear stress, direction of the major principal stress and shear stress concentration factor were obtained using photo stress analysis tomography (PSAT). The results show that the maximum shear stress distribution in the simple cubic structure is chain-like and self-repetitive, i.e., a single grain behaviour is representative of the whole system. This is not the case in the case of other granular packing. In the case of the inclusion surrounded by powder media, the maximum shear stress distribution in the inclusion occurs through ring-like structures, which are different from those observed in the structured granular packing. This tendency increases for an increase in the cohesivity of the surrounding particulates. In the granular systems, the direction of the major principal stress is mostly orthogonal to the direction of loading except in some particles in the random granular packing. In the case of inclusion surrounded by Durcal particulates, the directional of the major principal stress acts along the direction of the axial loading except in the ring region where this tends to be oblique to the direction of axial loading. Estimates of the shear stress concentration factor (k) show that, k tends to be independent of the structural arrangement of granular packing at higher load levels. In the case of inclusion surrounded by powder bed, k for the seeded granulated particulate bed is mostly independent of the external load levels. In the case of unseeded particulate (granulated) bed, a fluctuation in k is observed with the loading level. This suggests that the seeded granules could distribute stresses in a stable manner without much change in the nature of shear stress-transmitting fabric of the particulate contacts under external loading. An increase in the cohesion of particulate bed results in more plastic deformation as shown by the differential shear stress concentration factor. The results reported in this study show the usefulness of optical stress analysis to shed some scientific lights on unravelling some of the complexities of particulate systems under different structural arrangements of grains and surrounding conditions of the inclusions in particulate media.

Nerve guides manufactured from photocurable polymers to aid peripheral nerve repair

Pateman, C.J.; Harding, A.J.; Glen, A.; Taylor, C.S.; Christmas, C.R.; Robinson, P.P.; Rimmer, Stephen; Boissonade, F.M.; Claeyssens, F.; Haycock, J.W.

(

2015

)

The peripheral nervous system has a limited innate capacity for self-repair following injury, and surgical intervention is often required. For injuries greater than a few millimeters autografting is standard practice although it is associated with donor site morbidity and is limited in its availability. Because of this, nerve guidance conduits (NGCs) can be viewed as an advantageous alternative, but currently have limited efficacy for short and large injury gaps in comparison to autograft. Current commercially available NGC designs rely on existing regulatory approved materials and traditional production methods, limiting improvement of their design. The aim of this study was to establish a novel method for NGC manufacture using a custom built laser-based microstereolithography (muSL) setup that incorporated a 405 nm laser source to produce 3D constructs with approximately 50 mum resolution from a photocurable poly(ethylene glycol) resin. These were evaluated by SEM, in vitro neuronal, Schwann and dorsal root ganglion culture and in vivo using a thy-1-YFP-H mouse common fibular nerve injury model. NGCs with dimensions of 1 mm internal diameter x 5 mm length with a wall thickness of 250 mum were fabricated and capable of supporting re-innervation across a 3 mm injury gap after 21 days, with results close to that of an autograft control. The study provides a technology platform for the rapid microfabrication of biocompatible materials, a novel method for in vivo evaluation, and a benchmark for future development in more advanced NGC designs, biodegradable and larger device sizes, and longer-term implantation studies.