Vibro-acoustic products from re-cycled raw materials using a cold extrusion process. A continuous cold extrusion process has been developed to tailor a porous structure from polymeric waste, so that the final material possesses particular vibro-acoustic properties.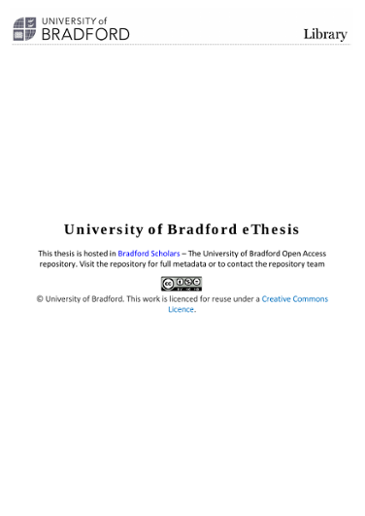 Publication date
2010-05-07T11:32:02Z
Supervisor
Horoshenkov, Kirill V.
Benkreira, Hadj
Rights

The University of Bradford theses are licenced under a Creative Commons Licence.
Institution
University of Bradford
Department
School of Engineering, Design and Technology.
Abstract
A cold extrusion process has been developed to tailor a porous structure from polymeric waste. The use of an extruder to manufacture acoustic materials from recycled waste is a novel idea and the author is not aware of any similar attempts. The extruder conveys and mixes the particulates with a reacting binder. The end result is the continuous production of bound particulates through which a controlled amount of carbon dioxide gas that is evolved during the reaction is used to give the desired acoustic properties. The cold extrusion process is a low energy consuming process that reprocesses the post manufacturing waste into new vibro-acoustic products that can be used to meet the growing public expectations for a quieter environment. The acoustical properties of the developed products are modelled using Pade approximation and Johnson-Champoux-Allard models. Applications for the developed products are widespread and include acoustic underlay, insulation and panels in buildings, noise barriers for motorways and railway tracks, acoustic insulation in commercial appliances and transport vehicles.
Collections
Related items
Showing items related by title, author, creator and subject.
A holistic approach to injection moulding optimisation for product quality and cost through the characterisation of reprocessed polymeric materials and process monitoring. Experimental evaluations and statistical analysis of multiple reprocessing of unfilled and short glass fibre filled polypropylene materials. An optimised methodology to realise minimum product cost at an acceptable product quality.

Mulvaney-Johnson, Leigh; Campean, I. Felician; Elsheikhi, Salah A. (

University of BradfordSchool of Engineering, Design and Technology

,

2012-04-16

)

The plastics industry is one of the fastest growing major industries in the world. There is an increase in the amount of plastic used for all types of products due to its light weight and ability to reprocess. For this reason, the reprocessing of thermoplastics and the usability of reprocessed materials are gaining significance, and it is important to produce and consume plastic materials in an environmentally friendly way. In addition, rising raw material cost linked to the increased oil prices encouraged for reusing of the plastic materials. The aim of this research was to study and optimize the injection moulding process parameters to achieve a trade-off between the product cost and product quality, measured through mechanical properties and geometry, based on using regrind ratios. The work was underpinned by a comprehensive study of multiple reprocessing effects in order to evaluate the effect of process parameters, material behaviour, reprocessing effects and possible links between the processing parameters and key properties. Experimental investigations were carried out, in particular, focused on the melt preparation phase to identify key process parameters and settings. Multiple reprocessing stages were carried out; using two types of PP material: unfilled and short glass filled. A series of tests were used to examine product quality (mass, colour and shrinkage) and physical properties (density, crystallinity, thermal stability, fibre length, molecular weight, in-line and off-line viscosity, tensile strength, modulus of elasticity, elongation (%) and flexural strength). This investigation showed that the mouldability of the filled and unfilled PP materials, through the successive reprocessing stages (using 100 % regrind), was observed to be relatively consistent. Given the link between the processing parameters and key product and material properties, it is possible to manufacture products with minimal loss to part quality and mechanical properties. The final phase of the work focused on process optimisation study for short glass fibre filled PP material and the identified key process parameters (melt temperature, screw rotational speed, holding pressure, holding time and injection rate). A response surface experiment was planned and carried out for three reprocessing stages (0 %, 25 % and 50 % regrind). The fitted response surface models were utilised to carry out the trade-off analysis between the operating cost (material cost, energy cost and labour cost) and product quality (dimensions and tensile strength) Based on the optimal moulding conditions, the operating cost was reduced (from stage I as a reference), by 24% and 30 % for stage II and stage III respectively. A small, perhaps undetectable, change in product dimensions was noted. In addition, a small reduction in tensile strength was noted (from stage I as a reference), by 0.4% and 0.1 % for stage II and stage III respectively. The same data was applied in other countries (Australia, USA, Brazil, Libya and China) to manufacture the same product; and it was observed that the cost was reduced with increasing of regrind ratio. But the significant reduction of the cost, essentially, depended on those countries which have low wage rates (e.g. Brazil, Libya and China). For example, the cost of moulded product manufactured in China is £ 0.025 (using 50% of regrind), while the cost of the same product produced in Australia is £ 0.12, hence giving a total saving of 79 % and making it a valuable issue to be considered in industry.

Method Development for the Application of Vibrational Spectroscopy to Complex Organic-Inorganic Materials in Astrobiology. A Systematic Development of Raman Spectroscopy and Related Analytical Methods to the Structural Chemistry at Organic (Biological) and Inorganic (Mineralogical) Interfaces of Material Assemblies Relevant to Astrobiology and Inter-Planetary Science.

Scowen, Ian J.; Munshi, Tasnim; Whitaker, Darren A. (

University of BradfordChemical and Forensic Sciences

,

2015-07-08

)

In the search for the conformation of extant or extinct life in an extraterrestrial setting the detection of organic molecular species which may be considered diagnostic of life is a key objective. These molecular targets comprise a range of distinct chemical species, with recognisable spectroscopic features. This project aims to use these features to develop an in-situ molecular specific Raman spectroscopic methodology which can provide structural information about the organic–inorganic interface. The development of this methodology identified a surface enhanced Raman spectroscopic technique, that required minimal sample preparation, allowed for the detection of selected organic species immobilised on an inorganic matrix and was effective for quantities below those which conventional dispersive Raman spectroscopy would detect. For the first time spectral information was gained which allowed analysis of the organic–inorganic interface to be carried out, this gave an insight into the orientation with which molecules arrange on the surfaces of the matrices. Additionally a method for the detection of organic residues intercalated into the interlamellar space of smectite type clays was developed. An evaluation of the effectiveness of uni and multivariate methods for the analysis of large datasets containing a small number of organic features was also carried out, with a view to develop an unsupervised methodology capable of performing with minimal user interaction. It has been shown that a novel use of the Hotellings T2 test when applied to the principal component analysis of the datasets combined with SERS allows identification of a small number of organic features in an otherwise inorganic dominated dataset. Both the SERS and PCA methods hold relevance for the detection of organic residues within interplanetary exploration but may also be applied to terrestrial environmental chemistry.