By the Head of a Spirited Horse: A Biocultural Analysis of Horse-Depositions as Reflections of Horseman Identities in Early Britain (Iron Age to Early Medieval Period)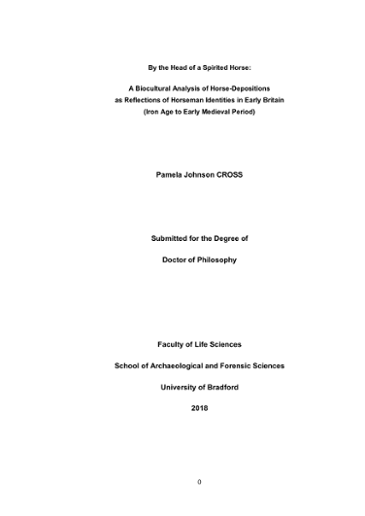 Rights

The University of Bradford theses are licenced under a Creative Commons Licence.
Institution
University of Bradford
Department
Faculty of Life Sciences, School of Archaeological and Forensic Sciences
Abstract
Horse-depositions were examined to explore the development of human-horse relationships in early Britain using a multidisciplinary approach (osteological, archaeological, historical and ethnographical) to interpret these relationships as part of Horseman identities in the Iron Age, Roman and medieval periods. Medieval Horseman-burials are an established phenomenon and considered an Anglo-Saxon import in Britain which expressed a general elite-warrior male status. However, Horseman-burials form an exclusive minority which suggest not a general warrior elite but specific subgroups and/or traditions potentially rooted in earlier practices. Husbandry, transportation-use and ritual practices were also investigated. Horses and horse-use were evaluated via stature and correlations with sex. The results indicated sexual dimorphism should be considered when interpreting horse stature. It is hypothesised that generally females were pastured breeding-stock while males were transportation-stock which received supplemental nutrition and care. Males were/are generally larger than females, and size disparity was probably heightened by such gendered horse-use practices. Overall, it appears females were 1.3m or less, and horses over 1.3m were males. Horse-depositional patterns in human, particularly funerary, spaces were analysed. Horse deposition often had ritual components and practices changed over time reflecting changing Horseman identities, particularly during the Roman period. Roman-British interactions, the destruction of native-elite chariot-warfare identities and the development of native-auxiliary groups refocused Horseman identities on mounted-warfare. This change from driver to rider, a more intimate relationship, appears reflected by the development of human-horse burials and Horseman identities linked to auxiliary-native cultural groups which incorporated Roman equites ideals with native-auxiliary and imported Eurasian Horseman traditions.
Notes
The appendices which accompany the thesis are not available online.
Collections