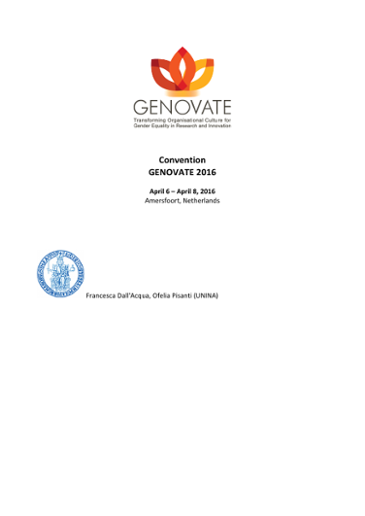 Rights
(c) 2017 GENOVATE partner institutions.
Abstract
The GENOVATE Convention 2016 was held on 6 – 8 April 2016 in Amersfoort, Netherlands. Annual conventions provide the opportunity for Consortium partners to discuss their achievements at both the Institutional and at the Consortium level, to share information, and to plan and/or refine new actions. GENOVATE is currently in the fourth and last year of implementation: all partners are now in the final stages of their GEAP actions, and have been completing or have already finalized project deliverables. The Amersfoort Convention has been the space for partners to celebrate the successes of three intense years of collaborative work, but also to define the course of action for the remaining months of the project. The GENOVATE International Advisory Board also attended the Convention and actively participated in all the sessions, providing valuable feedback and support.
Version
Published version
Citation
Dall'Acqua F, Pisanti O and GENOVATE partner institutions (2016) GENOVATE convention report. 6-8 Apr 2016, Amersfoort, Netherlands.
Collections